NASDAQ: MDLZ $75.13 USD 0 (0%)

Quem somos
A Mondelēz International é um dos líderes mundiais na indústria alimentar e, em Portugal, somos o número 1 nas categorias de Bolachas, Pastilhas e Chocolates, graças a marcas icónicas como Triunfo, Cote D'Or, Milka, Royal, Philadelphia ou Trident. Com cerca de 150 colaboradores, os nossos fabricantes tornam os nossos produtos sensacionais, independentemente da sua localização. Seja na nossa equipa de Vendas ou na equipa da nossa sede em Lisboa, certamente teremos um lugar ideal para abraçares um novo desafio na Mondelēz International.
Juntos, trazemos o nosso próprio sabor e a sua melhor versão para liderar o futuro do snacking, e ajudar a criar um futuro onde as nossas pessoas e o nosso planeta prosperem. A nossa missão em fazer o snack perfeito no momento certo, promove a paixão dentro das nossas equipas, e juntos desenvolvemos iniciativas locais, como o nosso programa Harmony de trigo sustentável. Como o maior produtor mundial de bolachas, a nossa missão é garantir que o trigo seja cultivado de forma sustentável.
CRESCEMOS – CUIDAMOS – INOVAMOS
Localização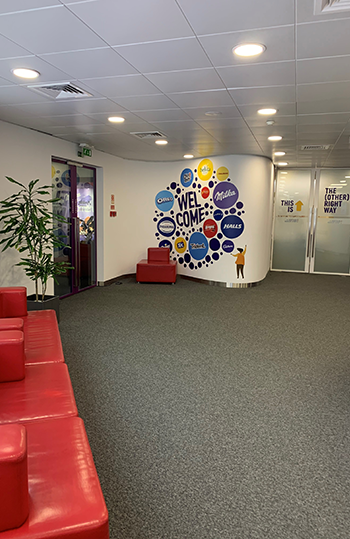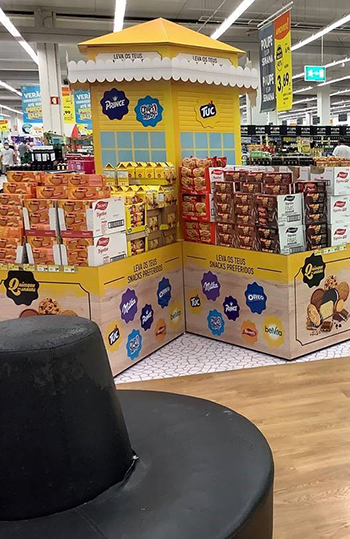 Sede: Lisboa
Lisboa, a cidade da luz, do Tejo e das sete colinas, é onde se localiza a sede em Portugal, onde estão também baseadas as nossas operações corporativas e comerciais. Na nossa empresa procuramos tanto pessoas que estão a começar as suas carreiras como profissionais que já contam com anos de experiência.
Podes juntar-te a nós na área do Marketing e fazer parte de uma equipa corajosa que constrói parcerias com os clientes e encontra formas inovadoras de impactar os consumidores. Em Recursos Humanos, estarás em contacto com o negócio, e terás a missão de criar o "Great Place to Work", e desenvolver o conhecimento e skills dos nossos colaboradores. Em Customer Service & Logistics (CS&L), ajudarás a completar uma sofisticada cadeia de fornecedores desde o início até ao fim do processo. Como parte das equipas de Vendas, irás juntar-te aos principais impulsionadores de benefícios do nosso negócio, onde ajudarás a crescer a nossa carteira de clientes, e a nós próprios enquanto Empresa, promovendo a Mondelez como um fornecedor de referência. Alternativamente, podes juntar-te à nossa área Financeira, inovadora, contemporânea e orientada para o futuro.
Na Mondelez apostamos fortemente num ambiente de trabalho moderno. O teu dia pode ser composto por trabalho administrativo ou optar por uma mudança de cenário com reuniões de equipa nos nossos espaços comuns, seguido de uma pausa com um colega para desfrutar de um delicioso lanche no café do Alfrapark. Em dias agitados também poderás relaxar a tua mente com um passeio perto da nossa área de jardim, para te ajudar a mudar o mindset ou puxar pela criatividade.
Temos orgulho em ser um local de trabalho focado no futuro que incentiva o trabalho em equipa, permitindo que as pessoas se encontrem em situações quotidianas, compreendam os papéis uns dos outros e partilhem os valores da Mondelēz International.
Vendas
A maioria do nosso trabalho fora do escritório corresponde à equipa de vendas, que são os principais responsáveis pelo desenvolvimento de receitas, através da implementação dos nossos planos de promoção em loja, com as nossas famosas marcas, incluindo Triunfo, Côte D'Or, Prince, Milka, Royal e Trident.
As posições para a equipa de vendas são aquelas que realizam uma gestão e negociação de apoio à atividade comercial dentro de um determinado setor: Gestores dos Pontos de Venda, Gestores de Contas e Equipas de Planeamento e Ativação das categorias, todas elas com uma trajetória profissional orientada para a Direção de Vendas.
Cookie Policy
We are using cookies in order to facilitate your navigation. By continuing to navigate on this website or clicking on the close button you accept our policy regarding the usage of cookies.
Yes, I accept
Learn more