Research & Development (R&D) is where we invent moments of joy. To compete in the global snacking market, we must be a heartbeat away from our consumers – listening and responding to their needs.
And through the ingenuity of our scientists, technology specialists and engineers, R&D is influencing, re-inventing and changing the snacking landscape to excite, inspire and enrich people's lives all over the world.
In R&D, we develop the products, the processes behind them and the packaging they come in. We create manufacturing specifications and secure the IP rights for our innovations. And we ensure our products are safe. To deliver on all fronts, we're looking at ways to leverage technology and make our processes simpler. Above all, we're making a 65 million USD investment to build a global network of nine R&D hubs. This will enable us to better integrate global best practices into our way of working, and recruit, retain and develop scientific and technical talent.
Find Out More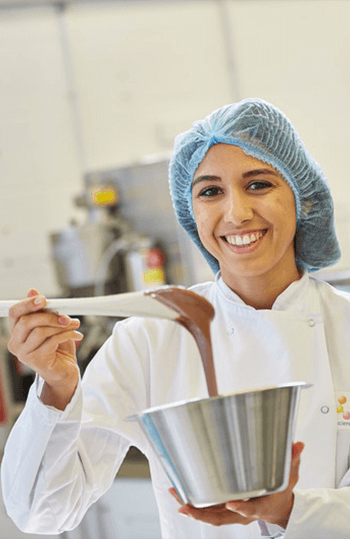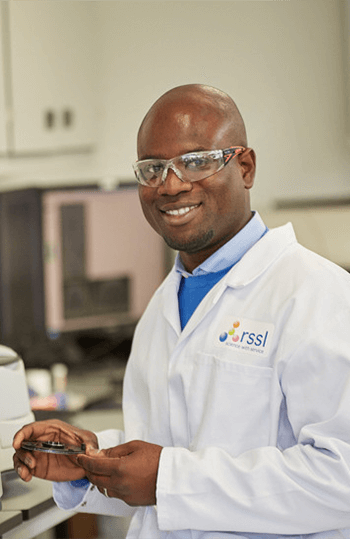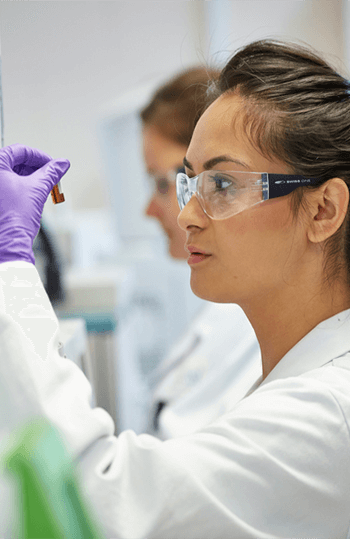 Where You Could Fit In
Research & Development opportunities are available in our five Global Category teams: Chocolate, Biscuits, Gum & Candy, Powdered/Refreshment Beverages or Meals. As part of the Product and Process Development teams within the categories, you'll help us to deliver a pipeline of compelling consumer platforms and breakthrough technology.
Our sub-functions and disciplines support all the categories and include disciplines such as Packaging Development, Consumer Science, Quality and Food Safety, Ingredient Research, Analytical, IP, Knowledge Management, Open Innovation, Nutrition and Statistics.
Within this structure, you'll help to meet the needs of consumers through our Discover, Develop, Deploy Framework:
Discover: delivering functional benefits against consumer insights through the invention of new science and technology, and by building the right knowledge to develop consumer platforms. Entry roles could include Ingredients Research Scientist or Bioscience Technician, with a path to roles such as Research Leader responsible for a team of researchers or Lead Scientist specialising in a Technology area.
Develop: creating winning products, processes and packages for consumer platforms identified from global consumer insights. Entry roles could include Process Development or Packaging Scientist, with a path to leadership roles responsible for a Technology area within the categories.
Deploy: taking the consumer platforms and maximizing them in local markets across the globe. Entry roles could include Quality Auditor or Process Engineer, with a path to roles such as Quality Manager or Senior Process Engineer.
"If you're open to new possibilities, you can gain a wealth of experience."
Fran Whitaker, Section Manager Latin America, Global R&D
What Research & Development Careers Look Like
Mondelēz International R&D is an organization based on deep scientific, technical and engineering expertise at functional, category and global level. Business and technical skills are equally critical to our future plans – so whether you progress as a functional specialist, broad organizational leader or deep technical expert, your contribution to Mondelēz International will be valued and rewarded.
Our functional specialists have extensive technical knowledge in at least one area and progress by moving across categories or geographies. Broad organizational leaders bring technical skills and strategic leadership capabilities to manage teams or projects within R&D. Deep technical experts are renowned for their mastery of their subjects.
Everyone in R&D puts the quality and safety of our products first. We share a commitment to harnessing ground-breaking science and technology to create products and packaging that bring joy. And we're driven by a desire to bring innovative new products to market – like our delicious belVita breakfast biscuits, the brainchild of our French R&D team.
"As a global company, we invest for the long term in our people and brands."
Nawaz Sulemanji, Spend Area, Project Management Office, R&D
Your Learning Experience
We're only as good as our people and what they bring to our business. So we've spared no effort in making Mondelēz International RDQI a 'great place to work' – where the best talent in the industry can develop their technical knowledge and leadership skills.
Everyone's aspirations are different and we'll give you the freedom to create a career path that suits you. We'll support you by giving the inspiration, tools and opportunities to acquire a rich blend of experiences, so you can keep your options open before accelerating your growth and unleashing your full potential.
Most of your learning will come from on-the-job experience, doing work you love. This may mean participating in projects beyond your own area, moving across functions within RDQI or relocating to a new country. But you'll also learn from others, perhaps shadowing a more experienced colleague, receiving mentoring or coaching, or building your network of contacts. There will also be learning events and courses, from face-to-face workshops to webinars, to top up your knowledge
"I learn from people who are the best in their fields; I'm inspired by them every day."
Marcia Young, Senior Director, Global Consumer Science
Corina Ponert
Packaging Technologies
Research & Development, Munich
Hi! I am with Mondelēz now over 6 years. I started as an intern in Logistics in Austria and then moved to Finance to our Milka Plant in Bludenz where I became plant controller.
Recently, I have moved to Bremen and category controlling to see finance from a different point of view. Now I'm responsible for innovations in Germany and Austria for Chocolate & Biscuits. We solve challenges as a team, we grow together and celebrate the success as one team.