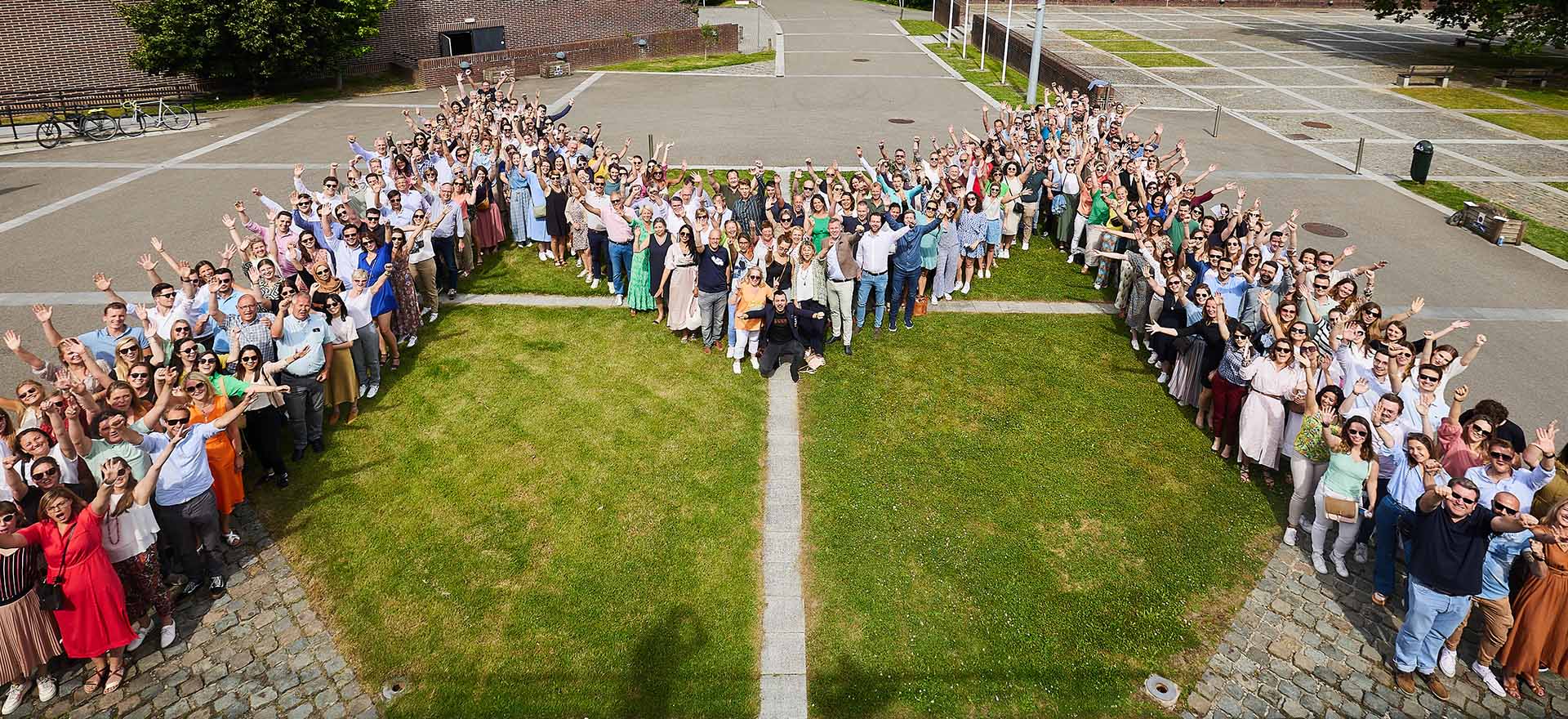 Over Ons
Mondelēz International heeft sterke roots in België en Nederland. Je kent ons misschien eerder via onze merken Côte d'Or, LU, Milka, Philadelphia, TUC, Prince, Grany, Time Out, LiGA en Stimorol. We zijn al sinds 1870 actief in de Benelux regio, welke de bakermat is van de iconische merken TUC, Prince, LiGA en Côte d'Or. In België is Mondelēz International marktleider in chocolade, koekjes en cream cheese, en nummer 2 in kauwgom. In Nederland is het bedrijf marktleider inzake koekjes, chocolade en cream cheese, en ook actief in kauwgom.
Mondelēz International stelt in de Benelux ongeveer 2000 mensen te werk en heeft, naast de hoofdzetels in Mechelen (België) en Breda (Nederland), productiefaciliteiten in Herentals en Namen.
Onze ambitie luidt wereldwijd « Empower people to snack right »: iedereen de mogelijkheid geven om bewust te snacken. Onze missie is om in onze lokale markten, en ook wereldwijd, de toekomst van snacking te leiden, door onze consumenten de juiste snack te bieden, op en voor het juiste moment, en op de juiste manier gemaakt.
Onze milieu-impact verminderen en duurzame ingrediënten
Van het verantwoord inkopen van ingrediënten tot het efficiënt gebruik van natuurlijke hulpbronnen of ze hernieuwbaar te maken, van het waarborgen van mensenrechten tot het bevorderen van de veiligheid van onze medewerkers en consumenten - wij willen onze snacks op een economisch, ecologisch en sociaal duurzame manier maken.
Cacao is het belangrijkste ingrediënt van onze chocolade. Mondelēz International lanceerde in 2012 het Cocoa Life programma om de complexe uitdagingen aan te pakken waarmee cacaotelende gemeenschappen worden geconfronteerd, en om de duurzame teelt van cacao te garanderen. Eind 2021 heeft het Cocoa Life programma 209954 cacaotelers in 2597 gemeenschappen bereikt. In 2021 wordt 75% van het cacaovolume voor chocolademerken aangekocht via Cocoa Life, waaronder 100% voor onze chocolademerken Côte d'Or, Milka en Toblerone. Meer info op www.cocoalife.org.
Tarwe is dan weer het belangrijkste ingrediënt voor onze koekjes. En bij Mondelēz International, werken we samen met lokale landbouwers aan het Harmony programma voor een duurzame tarweteelt. Het programma draagt zorg voor de bodemkwaliteit, vermindert CO2-uitstoot, helpt om water te besparen en beschermt en bevordert ook de lokale biodiversiteit. In België werken we hiervoor samen met ruim 130 landbouwers, en kunnen we rekenen op het advies van Natuurpunt inzake biodiversiteit. In 2021, werd er 55830 ha Harmony tarwe gezaaid in Europa, waarvan 1400 ha in België. Deze tarwe wordt gebruikt voor koekjes die gemaakt worden in onze fabriek te Herentals (TUC, Prince, LiGA, Pim's, ...). Meer info op www.harmony.info.
Make it @MDLZ
We spenderen een groot deel van onze dag samen met collega's, dus een goede werksfeer en bedrijfscultuur zijn van groot belang. Als bedrijf bieden we flexibele werktijden en een goede work-life balance. En omdat ook groeien en jezelf ontwikkelen noodzakelijk is, bieden we tal van groeimogelijkheden, gaande van on-the-job training tot cross-functionele carrièremogelijkheden en toegang tot een hele waaier aan trainingen. We werken in een internationale omgeving, maar hebben een grote lokale focus in al onze locaties, ondersteund door vele initiatieven. We zetten ons in voor het creëren en in stand houden van een werkomgeving waar verschillen worden gewaardeerd en iedereen zichzelf kan zijn. We streven ernaar talent aan te trekken, te ontwikkelen en te koesteren overal waar het aanwezig is.
Kortom, aan alle koekjes- en chocoladeliefhebbers, cream cheese fans of kauwgom-kauwers: heb je interesse in een heerlijke en dynamische job, op een plaats waar work-life balance belangrijk is, in een internationale omgeving, omringd door de beste collega's?
Kom meer te weten over onze locaties en solliciteer nu om mee de toekomst van snacking te creëren!
ONZE VESTIGINGEN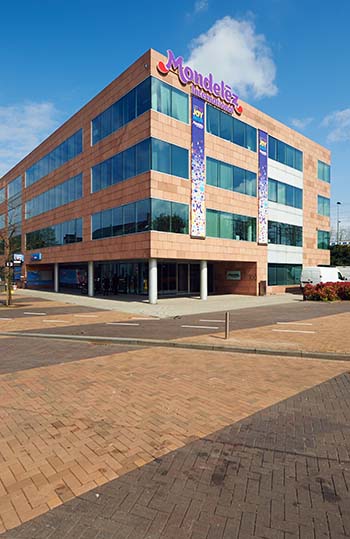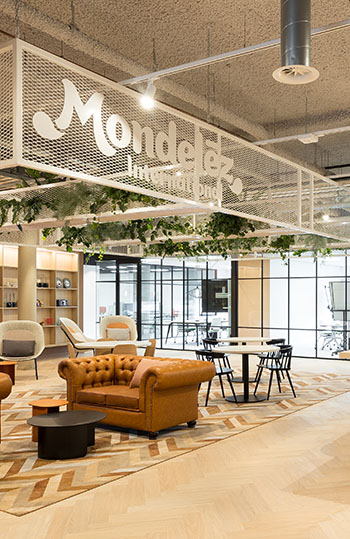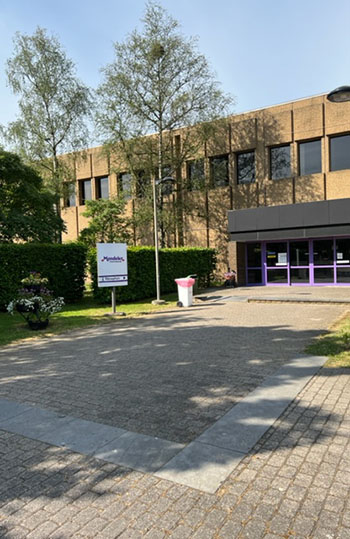 Mechelen
Adres: Stationsstraat 100, 2800 Mechelen
De hoofdzetel van Mondelez Belgium is gevestigd in Mechelen, tussen Antwerpen en Brussel. Hier werken collega's van verschillende gecentraliseerde afdelingen, zoals HR, Management, Finance, Corporate & Legal Affairs, Marketing, Sales, Customer Service & Logistics, Category Planning, Procurement, Information Systems, .... In totaal werken er ongeveer 250 collega's, inclusief het Sales Field team dat ons vertegenwoordigt in de Belgische winkelpunten.
Breda
Adres: Verlengde Poolseweg 34, 4818 CL Breda
In Nederland wordt Mondelēz International vanuit Breda voornamelijk vertegenwoordigd door een marketing- en verkooporganisatie. Hier bevinden zich alle afdelingen die specifiek voor de Nederlandse markt werken, zoals de afdelingen Sales, Trade Marketing en Marketing, Customer Service & Logistics, .... In totaal werken er ongeveer 100 medewerkers, inclusief het Sales Field team dat ons vertegenwoordigt in de Nederlandse winkelpunten. Dit Sales Field team is merendeels op de baan en speelt een belangrijke rol bij het uitvoeren van onze promotieplannen in de winkels.
Herentals
Chocoladefabriek Herentals
Adres: Montezumalaan 1, 2200 Herentals
In onze chocoladefabriek te Herentals werken meer dan 230 medewerkers die jaarlijkse ruim 27000 ton chocolade produceren voor ruim 20 verschillende producten. De fabriek telt 6 productielijnen waar Côte d'Or en Milka producten worden gemaakt waaronder LEO, Melo Cakes, Côte d'Or chocoladerepen, alsook de Côte d'Or Fantastic Friends chocolaatjes, die in 2021 werden gelanceerd. Daarnaast worden hier ook de Milka paaseitjes voor heel Europa geproduceerd. De chocoladefabriek in Herentals heeft voor het Paasseizoen van 2022 maar liefst 2869 ton eitjes geproduceerd, wat neerkomt op zo'n 346 miljoen chocolade eitjes.
Ben je gepassioneerd door chocolade en zoek je een job als operator of technieker? Stuur je motivatie en CV naar: jobsherentals@mdlz.com!
Koekjesfabriek Herentals
Adres: De Beukelaer-Pareinlaan 1 - 2200 HERENTALS
In onze koekjesfabriek te Herentals werken meer dan 960 medewerkers. Vandaag telt de fabriek 10 productielijnen en produceert ze maar liefst 70000 ton koekjes, dat is goed voor niet minder dan 1,6 miljoen koekjes per uur! De koekjesfabriek in Herentals is hiermee één van de grootste koekjesfabrieken in Europa. Heb je in jouw keukenkast een pakje Prince, TUC, LiGA, Pim's of Bastogne koekjes liggen? Dan is de kans groot dat deze in Herentals werden geproduceerd. Kwaliteit en veiligheid zijn een van de belangrijkste thema's in een fabrieksomgeving en hier hechten we ook veel belang aan. Bovendien nomineren we elke maand een HERO, een collega die die maand de extra mile is gegaan op gebied van veiligheid.
Heb je een hart voor koekjes en ben je op zoek naar een job als operator of technieker of wil je graag aan de slag in ons magazijn? Stuur je motivatie en CV naar jobsherentals@mdlz.com!
Namen
Adres: Nouvelle Route de Suarlee (RH) 6 - 5020 TEMPLOUX
In onze kaas- en snackproductiefaciliteit te Namen zijn meer dan 400 medewerkers tewerkgesteld, die jaarlijks ongeveer 42000 ton kaas en snacks produceren. De fabriek biedt meer dan 80 productvariaties aan op de Europese markt. Het grootste deel van de productie is bedoeld voor export binnen Europa. Zo leveren we bijvoorbeeld Dairylea en Lunchables aan het Verenigd Koninkrijk, Sottilette naar Italië en El Caserio kaas naar Spanje. Onze landgenoten in België kunnen wel genieten van de smeuïge ZIZ kaas die we in Namen produceren.
Smelt je voor kaas en ben je op zoek naar een job als operator of technieker? Stuur je motivatie en CV naar jobsnamur@mdlz.com.